8 June 2020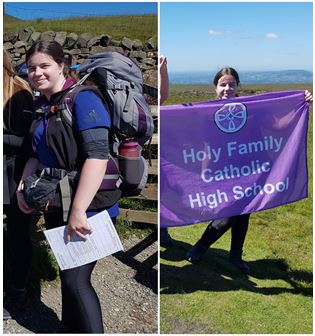 Congratulations Lucy on Passing the Gold Level Duke of Edinburgh Award Scheme
This week Lucy has officially been told that she has passed her Gold Level of the Duke of Edinburgh Award Scheme.
Lucy started the Award Scheme in Year 9 and she was always committed to achieving the prestigious Gold award which will be given to her next year by HRH Prince Edward Earl of Sussex when she goes to Buckingham palace to receive her Gold Brooch and Certificate.
To get to this Level Lucy has given 5 years towards Volunteering by helping out in the Plaza Cinema as well has supporting the delivery of the Award Scheme in Holy Family High School by training the candidates in with First aid and Camp craft skills. She has also completed Physical and Skill section by attending dance and singing lessons and has achieved her Grade 8 at this level. Finally, Lucy had to complete a Residential programme which involved spending 5 days volunteering in Brathay Hall in the Lake District. Here Lucy, supported the delivery of outdoor education to youngsters who participated in canoeing, rock climbing and team building skills. This was an activity which Lucy fully arranged herself and she showed high levels of independence when doing this.
Well done Lucy and congratulations!