29 April 2019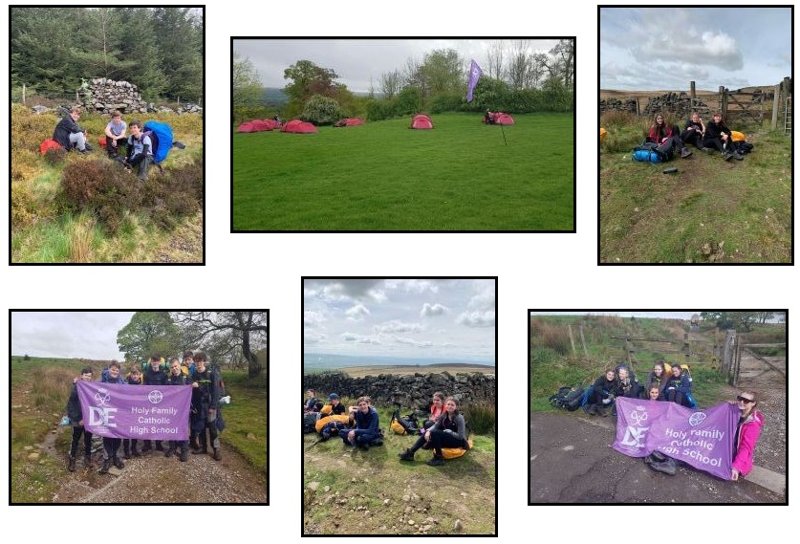 26th – 28th April 2019
Storm Hannah makes a visit to the Ribble Valley!
84 candidates from Year 10 ventured to the Ribble Valley to do their 2 day practice expedition for the D of E Award scheme. On day 1 the route was circular and started and finished at Waddow Hall. The weather was overcast and dry when the candidates started for their 8 hour expedition. Using the map to navigate the countryside all of the candidates followed the Ribble Way. They passed a number of local features such as nature trails, conservation areas and farmer fields. The route allowed the candidates to follow the River Ribble towards a typical countryside village of West Bradford. By midday the rain had started. The candidates were un-phased by this as they were suitably trained and arrived with clothing and equipment for all weather variations. The candidates continued their route passing the village of Grizedale and headed towards Sawley Bridge. By this time the rain was quite heavy and the candidates required some much needed warm food. They found a sheltered area and began to cook their lunch and had some warm drinks. This gave the groups some much needed inspiration to return back to the camp site and complete the remaining 4 mile walk. Once at the camp site Storm Hannah arrived. The candidates all went into their tents and remained there for the duration of the evening. This was done to get out of the storm and remain warm until the weather had passed.
On day 2 the weather had much improved. The sun was out and this meant that the candidates could cook their food using the trangias provided in the early morning sun. Some candidates cooked a full English breakfast whilst others had warm porridge and a hot drink. Once all of the cooking had been completed the tents were packed away and the expedition for day 2 began. The initial part of the route passed by the historic village of Waddington. Once they had passed this the groups then ventured up into the hills towards Grizedale Forest and finished at the top of Waddington Fell
This was a very challenging expedition for all of the candidates. It was evident that the 9 months of training and preparation for this "practice expedition" had proved successful. The staff involved were very impressed with the attitude and determination of all of the candidates over the 2 day expedition and it is expected that they will perform equally well when they undertake their assessment expedition in 2 weeks time.