25 June 2018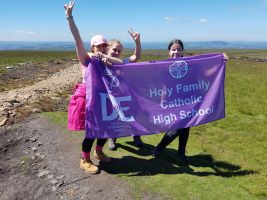 Practice expedition - 22nd-24th June 2018
3 days Pendle Hill to Waddington to Great Mitton to Bolton-by-Bowland
17 candidates from Holy Family High School walked 30 miles in the hottest temperatures of the year so far. They set off from Barley which is at the base of Pendle Hill. From there, they climbed the 557metres to the top. This was done early in the morning as the candidate's wanted the most difficult element completed before the heat from the midday sun. Once at the top they took on board additional water whilst they appreciated the views of the West Pennine Moors. The 3 groups continued their expedition towards Waddington where they pitched their tents at Waddow Hall camp site. The group pitched their tents in the shaded area and concentrated on warm food and energy for the following days walk.
On day 2 the candidates headed towards Great Mitton. They started to walk within the Forest of Bowland. The walk within the trees provided much needed shade. The candidates enjoyed this element of the walk as it was cool and they had to use their navigational skills that they were taught in the classroom to ensure they headed in the right direction. Once out of the forest the candidates frequently put sun tan lotion on throughout the day and wore their coats to prevent any other exposure to the sun. They equipped themselves brilliantly and made their way to the campsite in good time to rest and energise for the final days expedition.
Day 3 was already warm at 8.00am. The candidates were keen to complete this day and headed towards Bolton-by-Bowland. Having taken down their tents and organised their rucksacks to ensure that they were packed with the weight distributed evenly amongst themselves they headed off for their final 7 hours of adventure. They followed the River Ribble and the Ribble Way for most of the route. The candidates completed this expedition in a remarkably fast time despite the conditions.
This was a difficult expedition for the 3 groups. They had to prepare for too much sun and constantly replenish their water supplies. Throughout they worked tirelessly and their teamwork, leadership skills and personal determination to succeed were evident at all times.
All 3 groups passed the Practice expedition and are ready for the assessment in 2 weeks' time.