20 July 2017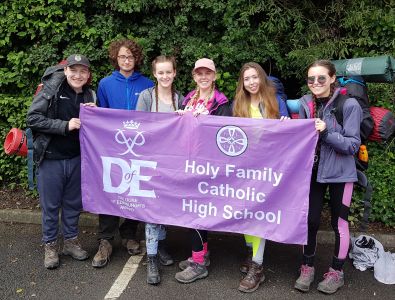 2016-17 was another successful year for the Duke of Edinburgh Award Scheme with a record number of pupils enrolled and the highest number of pupils completing the award scheme.
The expedition season ended with 2 expeditions involving 20 Year 13 pupils. They had to cover "wild country" regions which included the Cumbria Range and the Dark Peak District. Both expeditions provided very different challenges to the candidates.
The Lake District required the candidates to walk from Grasmere to Kendall covering 42 hours of walking in the hottest temperatures that we have experienced. The candidates had to conserve water and use their rations wisely to get to the campsite safely each evening.
The Dark Peak District, with very few obvious marker points and in very remote locations, required them all to use navigational skills and compass work to a very high standard. The skills of all the candidates throughout the 2 expeditions were exceptional. When they took their assessment the assessor stated that the "candidates were very well prepared and showed a high degree of preparation throughout their expeditions".
Both expeditions took place within a 6 week time frame, which allowed very little time for recovery between expeditions. They had to walk for a total of 8 days, covering over 110 miles in total. The candidates still have other elements to complete such as Skill, Volunteering, Physical Participation and a 4 day residential activity to fully achieve their award.